Eric Fukusaki
エリック・フクサキ

Eric Fukusaki promoting "Kazaranai Uta"
General Information

Also known as

Eric (エリック)

Born

April 27, 1991 (1991-04-27) (age 27)

Origin

Lima, Peru

Genre

J-Pop

Occupation

Singer-songwriter

Years active

2011-present

Label

hachama

Associated acts
Eric Fukusaki (エリック・フクサキ), also simply known as Eric (エリック), is a Peruvian singer-songwriter under J.P ROOM. Before he became a soloist, he was a member of the unit ALMA KAMINIITO.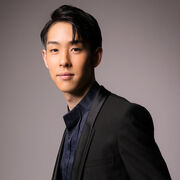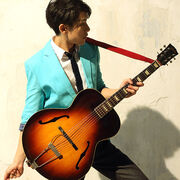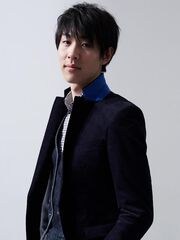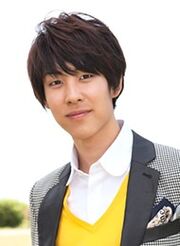 Early Life
Edit
Eric Fukusaki was born on April 27, 1991 in Lima, Peru. His mother is Chinese Peruvian and his father is Japanese Peruvian,[1] making Eric a third generation Japanese Peruvian. At age 10, he was charmed by an enka CD his father brought from Japan after working overseas.
In 2008, Eric participated in four different singing competitions and successfully won all of them.
On February 21, Eric was selected to participate in the 1st Forest Award NEW FACE Audition along with 13 other acts, which he and Munehiko won Special Award.
Later in 2011, Eric and Munehiko were announced as members of a new unit called ALMA KAMINIITO.
On April 4, Munehiko left ALMA KAMINIITO and Eric became the sole member of the unit.[2]
On December 4, Eric announced on Facebook that he would debut as a soloist in spring 2014, thus discontinuing his activities as ALMA KAMINIITO.[3]
On April 19, Eric released his debut single "Shinjiru Mono ni Sukuwareru / Subete no Kanashimi ni Sayonara Suru Tame ni / Tsuioku".
On August 19, he released his second single "Ai Yai Yai! / Ikanai de Senorita", which is Eric's first release to feature lyrics and compositions written by himself.
Eric wrote his first song for another artist, "Peanut Butter Jelly Love" for Country Girls' fifth single, which was released on February 8.[4][5] Eric composed the music and co-wrote the lyrics with Miura Yoshiko.
On August 23, Eric released Aru Koi no Monogatari, his first Latin cover mini album. Eric also composed the music and provided the Spanish chorus vocals for Juice=Juice's digital single "Fiesta! Fiesta!" which was released on the same day.[6]
On October 4, he released his third single "Kazaranai Uta".
Real Name: Eric Fukusaki (エリック・フクサキ, also spelt as エリック福崎)
Stage Name: Eric (エリック)
Birth Date: April 27, 1991
Birthplace: Lima, Peru
Blood Type: AB
Western Zodiac: Taurus
J.P ROOM Status:

2011-02-21: Member
2011-08-11: ALMA KAMINIITO member
2014-04-19: Soloist
Specialty: Artistic gymnastics, English, imitation
Hobbies: Playing the guitar, going to the gym, learning a new instrument, foreign languages (English, Japanese), traveling alone
Motto: "Ser hombre para los demás" ("be a man for others"), "Todo es posible" ("everything is possible"), "GAMBATEANDO" (a mix of Japanese and Spanish for "doing our best")
Strengths: Making an effort towards a goal, doesn't give up, openminded.
Weaknesses: Forgets things
Goals: Becoming an artist that people love.
Looks Up To: Yamashita Tatsuro, Nemoto Kaname, KAN, Miyazawa Kazufumi, Alberto Shiroma
Discography
Edit
Cover Albums
[2017.08.23] Aru Koi no Monogatari (Mini album)
Singles
[2015.08.19] Ai Yai Yai! / Ikanai de Senorita
[2017.10.04] Kazaranai Uta
Discography Featured In
Edit
ALMA KAMINIITO
Edit
Cover Albums
Singles
Songwriting Credits
Edit
References
Edit
External Links
Edit