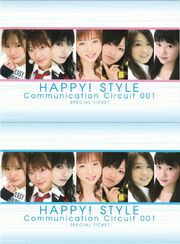 HAPPY! STYLE Communication Circuit 001
was the first live event by
HAPPY! STYLE
, it took place on May 6, 2008 at Omotesando FAB.
Featured Members
Edit
Go Girl ~Koi no Victory~
Ooki na Ai de Motenashite - SI☆NA
Thanks! - Abe Asami, Iwashima Manami
Ai no Bakayarou - Iwashima Manami
Meguru Koi no Kisetsu - SI☆NA
Momoiro Kataomoi - Noto Arisa
Koi Kana - Noto Arisa
Youshun no Passage - Abe Asami
Locomotion Dream - Iwashima Manami
La La La ~ Kuchibiru ni Negai wo Komete - Ogura Yui
Chance! - Nakayama Nana
Tamashii no Rufuran - Noto Arisa
Give a reason - Noto Arisa
Namida, Tomare! - Nakayama Nana
Haruka Kimi no Moto e - Noto Arisa
Believe - Noto Arisa
Gag 100 Kaibun Aishite Kudasai - SI☆NA
Honto no Jibun - SI☆NA
Happy☆Material - Noto Arisa
Akai Freesia - Abe Asami
Onegai Miwaku no Target - Suma Ai
Genshoku GAL Hade ni Yukube! - Noto Arisa
Boogie Train '03 - Noto Arisa
The Peace! - SI☆NA
I WISH - SI☆NA
Koko ni Iruzee!
Date
Venue
Prefecture
Doors Open
Concert Starts
5/6
Omotesando FAB
Tokyo
14:00
14:30
18:00
18:30
External Links
Edit
Event goods (Sasamine and Nakayama not displayed due to error)
Ad blocker interference detected!
Wikia is a free-to-use site that makes money from advertising. We have a modified experience for viewers using ad blockers

Wikia is not accessible if you've made further modifications. Remove the custom ad blocker rule(s) and the page will load as expected.