Ishihara Kaori
石原夏織


General Information

Also known as

Kyari, Carrie, Kaori-chan

Born

August 6, 1993 (age 20)

Origin

Chiba, Japan

Genre(s)

J-pop

Occupation(s)

Singer, voice actress, model

Years active

2008-Present

Label(s)

King Records

Associated acts
Ishihara Kaori (石原夏織) is an idol, voice actress, singer, and model managed by Sigma Seven. She was formerly part of Up-Front Style and HAPPY! STYLE. She is a former member of StylipS, and is currently a member of idol duo YuiKaori.
On April 20, 2013 it was announced that Ishihara would be graduating from StylipS alongside Ogura Yui.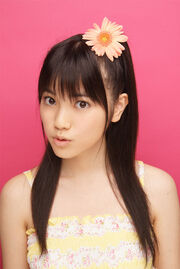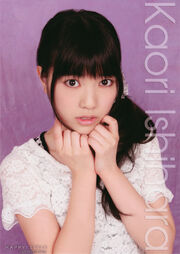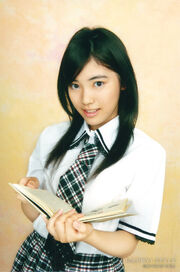 Name: Ishihara Kaori (石原夏織)
Birthdate: August 6, 1993 (age 20)
Blood type: A
Height: 153 cm
Western Zodiac: Leo
Eastern Zodiac: Rooster
Skills: Waking up early, dancing
Hobbies: Reading comics, singing
Favourite Food: chocolate, ice cream, noodles,
Favourite Animals: Cats & dogs
Disliked Food: Minced fish
Current Obsession: English
Up-Front Style groups:
Style Cube groups:
Singles Participated In
Edit
Discography
Edit
Solo Songs
Edit
Group Songs
Edit
[2012] Jersey-Bu Tamashi! (ジャージ部魂!) (Ishihara Kaori, Seto Asami and Kayano Ai) (Rinne no Lagrange Season 2 Ending Theme)
[2012] Heavenly Lover (Ishihara Kaori, Sakura Ayane, Taketatsu Ayana, Ogame Asuka, Hidaka Rina) (Kono Naka ni Hitori, Imouto ga Iru! Ending Theme)
Filmography
Edit
[2009–2010] Yumeiro Patissiere (夢色パティシエール) (as Clara Hunt; Estragon)
[2010] Kaichou wa Maid-sama! (会長はメイド様!) (as Ayuzawa Suzuna)
[2010] Planzet (プランゼット) (as Akejima Koyomi)
[2011] Aria the Scarlet Ammo (緋弾のアリア) (as Reki)
[2011] Double-J (だぶるじぇい) (as Toba Yutaka)
[2011] Mayo Chiki! (まよチキ!) (as Milk)
[2012] Rinne no Lagrange (輪廻のラグランジェ) (as Kyono Madoka)
[2012] Ano Natsu de Matteru (あの夏で待ってる) (as Tanigawa Kanna)
[2012] High School DxD (ハイスクールD×D) (as Murayama)
[2012] Saki Achiga-hen episode of side-A (咲-Saki-阿知賀編 episode of side-A) (as Ryūka Shimizudani)
[2012] Rinne no Lagrange: Komogawa Days (輪廻のラグランジェ 鴨川デイズ) (OAV) (as Kyono Madoka)
[2012] Rinne no Lagrange Season 2 (輪廻のラグランジェ season2) (as Kyono Madoka)
[2012] Muv Luv Alternative: Total Eclipse (マブラヴ オルタネイティヴ トータル・イクリプス) (as Yifei Tsui)
[2012] Kono Naka ni Hitori, Imouto ga Iru! (この中に1人、妹がいる!) (as Tsuruma Konoe)
[2012] Dakara Boku wa, H ga Dekinai. (だから僕は、Hができない。) (as Okura Mina)
[2012] Kokoro Connect (ココロコネクト) (as Kurihara Yukina)
[2012] Magi (マギ) (as Aladdin)
Video Games
Edit
[2011] Choujigen Game Neptune mk2 (超次元ゲイム ネプテューヌ) (as Ram) 
[2012] StylipS Star Seiyuu e no Michi (StylipSスター声優への道!; StylipS: The Road to Becoming Voice-Acting Stars)
Photobooks
Edit

She is fan of voice actress/singer Tamura Yukari.
She got the nickname Kyari from middle school friends because she looked like the character Yukari from manga Paradise Kiss, also called "Caroline" (キャロライン) or "Carrie" (キャリー).
She is not an official solo singer, but she has recorded several character songs in which she sings in the voice of one of her anime characters. A couple of these singles have charted on the Oricon charts.
She is currently attending university.
External Links
Edit
Ad blocker interference detected!
Wikia is a free-to-use site that makes money from advertising. We have a modified experience for viewers using ad blockers

Wikia is not accessible if you've made further modifications. Remove the custom ad blocker rule(s) and the page will load as expected.