Kyozuka Taisei
経塚泰誠

Taisei, 2016
General Information

Stage Name

Taisei (たいせい)

Born

November 29, 1969 (1969-11-29) (age 47)

Origin

Osaka, Japan

Genres

Rock, power pop

Occupation

Keyboardist, arranger, composer, recording director

Years Active

1988–present

Labels

zetima

Associated Acts

Sharam Q, The Tsunku♂ Beat, Ichii Sayaka in CUBIC-CROSS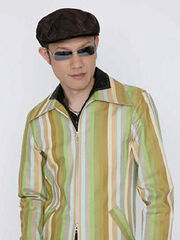 Kyozuka Taisei (経塚泰誠), simply known as Taisei (たいせい), is a keyboardist, arranger, composer, and recording director in UP-FRONT GROUP. He is the keyboardist in the rock band Sharam Q.
His original stage name was Taise (たいせー) until he changed it to Taisei in 2006.
In December 1988, Kyozuka Taisei, using the stage name Taise, became a member of the newly formed rock band called Sharam Q as the keyboardist, along with Tsunku, Hatake and Makoto. The group made their major debut in 1992.
In 1995, Taise and Sharam Q won the 37th Annual Japan Record Award for best composition for the single "Zurui Onna".
In 1997, Taise, along with Makoto and Shuu, formed a special unit called Super!? Tensions. The following year, the group disbanded with the departure of Shuu. The group only released 3 singles.
In 1999, Taise and Makoto formed another new group with Onishi Sachiko called east cloud. The group disbanded the following year and only released 3 singles as well.
In 2000, Sharam Q went on a hiatus and Taise began working in music production.
In 2002, Taise, Yoshizawa Naoki, and former second generation Morning Musume member Ichii Sayaka formed the band Ichii Sayaka in CUBIC-CROSS. The band released one album and four singles until they disbanded in November 2003.
In 2006, he changed his stage name from Taise to Taisei.
Personal Life
Edit
Education
Edit
Taisei is an alumni of Osaka Prefectural Ikeda High School and Kinki University. During his school life, he was part of the basketball club. Both he and Tsunku met while attending the same university.
Singles Featured in
Edit
Songwriting Credits
Edit
Keyboard for all songs. Composition for all songs except "Konayuki," "Same Time," and "Mae, Susume" from C:BOX.
External Links
Edit
Ad blocker interference detected!
Wikia is a free-to-use site that makes money from advertising. We have a modified experience for viewers using ad blockers

Wikia is not accessible if you've made further modifications. Remove the custom ad blocker rule(s) and the page will load as expected.