Miyazawa Marin
宮澤茉凛

Miyazawa Marin promoting "Яe:Start"
General Information

Also Known As

Marin (まりん), Mofuo (もふお)

Born

April 10, 1993 (1993-04-10) (age 25)

Origin

Miyagi, Japan

Occupation

Guitarist

Genre

J-pop/rock

Years Active

2012-

Associated Acts

Twitter
Miyazawa Marin (宮澤茉凛) is a Japanese musician. She is a guitarist in the pop-rock band LoVendoЯ and the unit Love Bitter EX.
Biography
Edit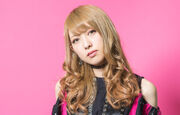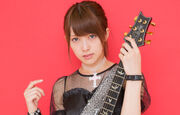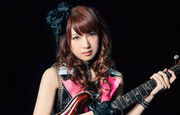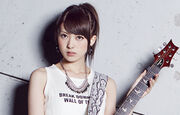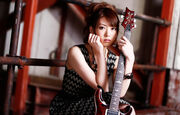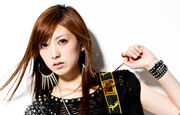 In 2012, Okada participated in the "Tanaka Reina to Band Yaritai Joshi Member Daiboshuu" audition and successfully passed. On November 18, she was announced as a member of Reina's Band, later named LoVendoЯ, as a guitarist.
On December 20, 2018, Miyazawa was announced as a founding member of the UP-FRONT esports club.[1]
Discography Featured In
Edit
Albums
Singles
Songwriting Credits
Edit
[2013–] LoVendoЯ no Rabu on (LoVendoЯの『らぶおん』; LoVendoЯ's Love Sound)
She has five cats.
She loves animals.
She had five years of guitar-playing experience when she joined LoVendoЯ.
Her favorite music genres are hard rock and heavy metal.
She is a fan of Mr.BIG, Night Ranger, Michael Schenker, Pantera.
She is a Pokémon otaku and often draws Pokémon characters.

Her favorite Pokémon is Charizard, and her first Pokémon was Charmander.
Her favorite Pokémon character is James from Team Rocket.

She owns a Nintendo 3DS, on which she plays Pokémon video games.
Miyazawa cosplays a lot on her time off. She has been Gladion,[2] Touko,[3] and Green[4] from the Pokémon franchise; Ginigstune (Silver Fox) from Kemono Friends;[5] and for the 2017 Natsu Comiket, she went as Natsume Takashi from Natsume Yuujinchou.[6][7]
She befriended Yanagawa Nanami due to their mutual interest in Pokémon.[8][9]
References
Edit
External Links
Edit