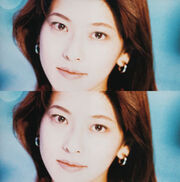 My Favorites is the fifth best album released by Moritaka Chisato. it was released on November 26, 2004.
Tracklist
Edit
Docchi mo Docchi (Mrs. Moritaka Version 2004) (どっちもどっち(ミセス森高バージョン2004))
Ame (雨; Rain)
Kono Machi (この街; This Town)
Obasan (叔母さん; Aunt)
Rock n' Roll Kenchoushozaichi (ロックンロール県庁所在地; Rock n' Roll Prefectural Capitals)
Aoi Umi (青い海; Blue Sea)
Watarasebashi (渡良瀬橋)
Ichido Asobi ni Kite yo (一度遊びに来てよ; Visit One More Time)
Kyou Kara (今日から; From Today)
Dekiru Desho!! (出来るでしょ!!)
Tou ga Tatsu (薹が立つ; To Go to Seed)
Tony Slavin
Nagasarete... (流されて…)
Watashi no You ni (私のように; Like Me)
The album reached #71 on the weekly Oricon charts and charted for three weeks.
External Links
Edit
Ad blocker interference detected!
Wikia is a free-to-use site that makes money from advertising. We have a modified experience for viewers using ad blockers

Wikia is not accessible if you've made further modifications. Remove the custom ad blocker rule(s) and the page will load as expected.