Okada Marina
岡田万里奈

Okada Marina promoting "Яe:Start"
General Information

Also Known As

Okamari (おかまり), MALINA

Born

July 24, 1993 (1993-07-24) (age 25)

Origin

Tokyo, Japan

Occupation

Singer

Genre

J-pop/rock

Years Active

2012-

Associated Acts
Okada Marina (岡田万里奈) is a Japanese singer. She is one of the vocalists in the pop-rock band LoVendoЯ and the unit Love Bitter EX.
In August 2018, she began to use the name MALINA for solo releases.[1]
Biography
Edit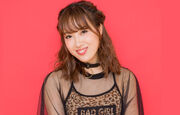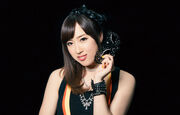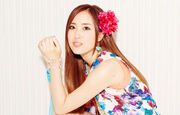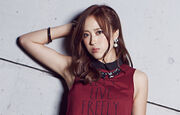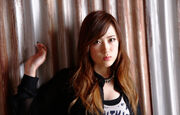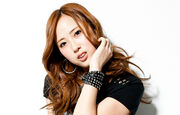 In 2012, Okada participated in the Tanaka Reina to Band Yaritai Joshi Member Daiboshuu audition and successfully passed.
On November 18, she was announced as a member of Tanaka's band, later named LoVendoЯ, as a vocalist.
On August 27, Okada digitally released two songs she wrote herself, titled "Isshi Tsurenai no Uta" and "Strange Flower", under the name MALINA.[1][2]
Name: Okada Marina (岡田万里奈)
Stage Name: MALINA
Nicknames: Okamari (おかまり), Okapi, OkaP, Hassenchi (はっせんち; 8 Centimeters)
Birthdate: July 24, 1993
Birthplace: Tokyo, Japan
Bloodtype: AB
UP-FRONT GROUP status:
Best Features: wide forehead
Specialty: Basketball
Hobbies: Karaoke
Favorite Artist: Lady Gaga
Audition Song: "Ame no Furanai Hoshi dewa Aisenai Darou?"
Discography
Edit
Digital Songs
Edit
Original Songs
Edit
Discography Featured In
Edit
Albums
Singles
TV Programs
Edit
[2013–2018] LoVendoЯ no Love On! (LoVendoЯのらぶおん!; LoVendoЯ's Love Sound)
[2013–2018] LoVendoЯ no LV-Я (LoVendoЯのLV-Я; LoVendoЯ's Level-Я)
[2013–2014] UF LICKS
[2014–2016] MUSIC+
[2016–] Upcoming
She has a sister.
She is the youngest member of LoVendoЯ

.

Because Okada looks older than her actual age, she and her mother constantly get mistaken as sisters.
She has a habit of arriving to places 30 minutes early.
Her parents named her Marina (万里奈) because each character has a few number of strokes and its beautifully written when one uses calligraphy.
In middle school, one of her friends measured her forehead with a ruler, and it was 8cm wide. Afterwards, her nickname became Hassenchi (はっせんち; 8 Centimeters).
She considers her forehead the source of evil in her life.
She is a "my pace" type of person, as well as being lazy.
She likes to have "alone time" and does activities, as well as going to places, alone. She is a keen angler.
References
Edit
External Links
Edit