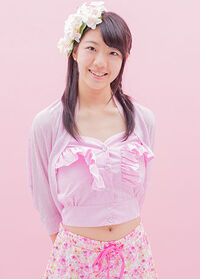 Sugimoto Suzuha (杉本涼葉) is a Japanese singer and actress. She auditioned to join Engeki Joshibu in 2014 and successfully passed. She debuted and only starred in the musical SMILE FANTASY!.
On September 5, she was revealed to have won an audition for Engeki Joshibu, an acting club associated with Hello! Project and UP-FRONT.
On September 13, Sugimoto participated in an introduction event at the Hello! Project Official Shop in Akihabara alongside Tomizawa Erika, Onoda Ayasa and Matsushita Haruna.
On September 17, Sugimoto was also introduced on Hello! Project Station alongside the four other Engeki Joshibu audition winners.
Following SMILE FANTASY! in October, Sugimoto didn't participate in any other Engeki Joshibu production and left the club.
Name: Sugimoto Suzuha (杉本涼葉)
Nickname: CHuN (ちゅん)
Birthday: March 18, 1998
Birthplace: Yamanashi, Japan
Hobbies: Songs, dance, watching YouTube
Her favorite artists are UVERworld and Momoiro Clover.
She'd like to go on a trip to Spain.
Her favorite male talents are Suda Masaki, Fukushi Sota and Narimiya Hiroki.
Her favorite female talent is Aragaki Yui.
Her favorite movie is Koizora, also known as Sky of Love.
She has been active as a musician since 2014, singing and playing the guitar at live events.
External Links
Edit
Ad blocker interference detected!
Wikia is a free-to-use site that makes money from advertising. We have a modified experience for viewers using ad blockers

Wikia is not accessible if you've made further modifications. Remove the custom ad blocker rule(s) and the page will load as expected.