Uozumi Yuki
魚住有希

Uozumi Yuki promoting "Takaramono / Itsuwari"
General Information

Also known as

Sakana-chan (魚ちゃん), Nee-san (姉さん)

Born

July 14, 1991 (1991-07-14) (age 27)

Origin

Tokyo, Japan

Occupation

Guitarist

Genre

J-pop/rock

Years Active

2008-present

Associated Acts

MistySpiral, LoVendoЯ, Love Bitter EX

Twitter
Uozumi Yuki (魚住有希) is a Japanese guitarist. She is a former member of the pop-rock band LoVendoЯ, the unit Love Bitter EX, and the band MistySpiral.
As of late 2016, Uozumi is working as a freelance musician.
Biography
Edit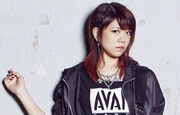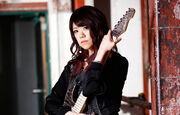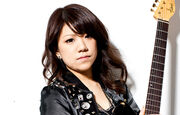 2008-2010
Edit
In 2008, Uozumi and 4 other members joined together to form a band called MistySpiral. They made their first live performance in January 2009. The group disbanded in December 2010. During that time, the group only released one digital single.
In 2012, Uozomi participated in the Tanaka Reina to Band Yaritai Joshi Member Daiboshuu audition and successfully passed.
On November 18, she was announced as member of Reina's Band, later named LoVendoЯ, as a guitarist.
On July 23, Uozumi announced her graduation from LoVendoЯ.[1][2] She graduated on September 16 and cut ties with UP-FRONT CREATE.
Since her departure, Uozumi performed in the YOUNG GUITAR × Marshall Girls Play LOUD! ~Hard Rock & Heavy Metal Tribute Session~ at the 2016 Gakki Fair on November 7;[3][4] she was a special guest at the BLUES ALLEY JAPAN 26th anniversary FUNKESTRA live! with NUDYLINE & WODDYFUNK on November 26,[5] she was a supporting guitarist at the and the TOKYO FUNKY GIRLS Showcase vol.52 on November 30;[6] and she was a guest at the FUNKESTRA extra X'mas special live! on December 18.[7]
In 2017, Uozumi performed as a supporting guitarist for various bands such as Zwei,[8] RISA★ROCK,[9][10] and Marin.[11][12]
On May 8, Uozumi gave birth to a boy weighing 3158 grams.[13]
Name: Uozumi Yuki (魚住有希)
Nickname: Sakana-chan (魚ちゃん), Nee-san (姉さん), UO
Birthdate: July 14, 1991
Birth Place: Tokyo, Japan
Blood Type: A
UP-FRONT GROUP status:
Favorite Group: Maroon 5
Favorite Subject: History
Audition Song: "Jishin Motte Yume wo Motte Tobitatsu Kara" (guitar)
Discography Featured In
Edit
Albums
Singles
Songwriting Credits
Edit
Country Girls
Edit
[2013–2016] LoVendoЯ no Rabu on (LoVendoЯの『らぶおん』; LoVendoЯ's Love Sound)
She was known to be LoVendoЯ's older sister figure.
She had six years of guitar experience when she joined LoVendoЯ.
Her nickname Sakana-chan (Fish-chan) comes from the kanji for "uo" (魚) in her last name which can also be read as "sakana", which translates as "fish".
Uozumi's family has three cats. A male American Shorthair named Ryu (龍),[14] a female Birman named Fuku (福),[15] and a male Munchkin name Kou (幸).[16]
Uozumi is friends with NOHANA, the bassist and leader of Draft King (also the former bassist of STEREOPONY); shioRi, a solo bassist; Mayuko, drummer of Ganbare!Victory; and Yamauchi Aina, bassist of SILENT SIREN.[17]
References
Edit
External Links
Edit